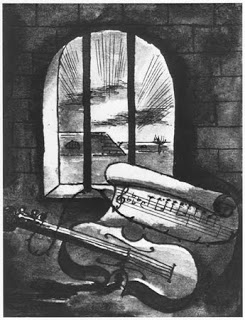 Through out my life, I often think about the fact that if it were not for Adolph Hitler, I would not be here. Plain and simple: my grandmother would probably still be in Germany and my Grandfather would have married another pretty Jewish lady in Los Angeles.
If it were not for the Holocaust, we would also not have any of the beautiful and inspirational art and music featured in
They Left a Light: Masterpieces from Nazi Prison Camps
at the East Bay Jewish Community Center on Sunday evening, October 18th.
This performance will be an educational experience with narration and a multimedia production performed by some of the Bay Area's top classical musicians, including Susan Waterfall, piano and narrator; Jeremy Cohen, violin; Burke Schuchmann, cello, and Erin Neff, soprano.
By nature, human beings find ways to make beauty out of the darkness. Olivier Messiaen, composer of
The Quartet for the End of Time
, Sunday evening's featured piece, was a Catholic French composer who lived in the Theresienstadt (Terezin) concentration camp during the Holocaust as a prisoner of war...
READ MORE OF MY ARTICLE HERE