My good friend and ethnomusicologist Kim Kattari is writing her dissertation on psychobilly music for a Ph.D. at The University of Texas Austin, where I got my Master's degree. She's coming up to the Bay Area this weekend to see this show so I asked her if she wanted to be a guest blogger. I worked my magic to get her an interview with the band and this is the cool piece she sent me just in time for Halloween! Read more about Kim below.
----------------------------------------------
Ghouls, demon lovers, zombies, the devil – just some of the characters found in the horrifically fun songs of
The Creepshow
. The group boasts four talented musicians: the cute but tough bombshell Sarah "Sin" Blackwood rocks on guitar and lead vocals, Sean "Sick Boy" McNab slaps away on a stand-up bass topped with a skull, Kristian "The Reverend McGinty" Rowles delivers dark-sounding sermons and creepy organ sounds à la J.S. Bach's Toccata and Fugue, and Matt "Pomade" Gee keeps it all together with solid rhythms on drums. To get the hard-driving hybrid sound that makes this Canadian band unique and exciting, take a little Johnny Cash, mix in some Dead Kennedys and the Damned, throw in the zombie love child of Wanda Jackson and Elvis Presley, and add a dash each of skate punk, haunted house organ, 1980s goth, and 1950s/1960s vocal group harmonies. So whether you want to call it "horrorbilly," "psychobilly," "horror punk," "punk-a-billy," "hellbilly" or whatever other term people have come up with to describe the "rockabilly meets punk meets horror movie" style, the band prefers to simply call it "Rock n Roll."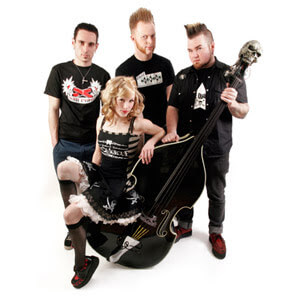 The Creepshow is currently touring to promote their second album,
Run For Your Life
, a record that ranges from angry tales of heartbreak and revenge in "You'll Come Crawlin'" to boot-stomping anthems like "Buried Alive." Then there are the peppier pop songs "Rock 'n' Roll Sweetheart" and "Demon Lover" featuring back-up vocal harmonies so infectious and irresistibly catchy that you'll find yourself singing "ooh ooh ooh" along with the band in no time.
You'll quickly fall under the spell of Sarah "Sin" Blackwood's sultry, country-tinged sexiness. I asked her what it's like to be a woman in a mostly male-dominated music scene. After joking about dealing with "the smell of dudes all the time," she commented on the double standard that women face:
"Even if I am trying to tough it out [when I'm not feeling 100%], it still makes me seem wimpy if I complain, because I am a girl and that automatically puts me in a "diva" category. Like if the guys all ask for no tomato on their burgers and their fries not to touch their ketchup, it's all good, but if I ask for that (which I f--king wouldn't), then people think I am demanding and bitchy."
READ MORE OF KIM'S ARTICLE HERE
About the guest author: Kim Kattari is a doctoral candidate in ethnomusicology at the University of Texas at Austin. She's currently residing in California, doing research for her dissertation on psychobilly music, entitled: "Bridging the Decades through "Mutant Rockabilly": The Performance of a Working-Class Nostalgic Fantasy in the Psychobilly Community." She loves going to shows, doing her hair up, and hearing that thump-thump of the upright bass. If you'd like to contact Kim, email her at kattari@mail.utexas.edu.