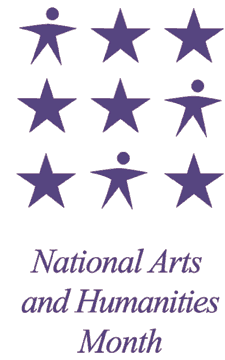 Like February is African American History Month and March is Women's History Month, President Obama has declared October National Arts and Humanities Month. There are events planned all over the country this month to celebrate.
According to the National Agency of State Arts Agencies, National Arts and Humanities Month's four primary goals are to:
- Create a national, state and local focus on the arts and humanities through the media (which is where I come in)
- Encourage the active participation of individuals, as well as arts, humanities and other interested organizations nationwide (keep on reading... there's a list of my favorite music organizations, please comment below and tell us what yours is!)
- Provide an opportunity for federal, state and local business, government and civic leaders to declare their support for the arts and humanities
- Establish a highly visible vehicle for raising public awareness about the arts and humanities
The proclamation by President Obama states:
"Every American deserves an opportunity to study, understand, and contribute to the arts and humanities. This must begin in our schools, where children may have their first and most important exposure to these disciplines."
I'm glad to see the federal government at least showing some kind of public support for the arts and humanities. We can talk all day about how we need to put arts education back into our schools, but until the cash shows up, that's all it is: talk. And until schools start seeing this money, we have arts organizations to help take the place of music and art education.
To read more of my article click here