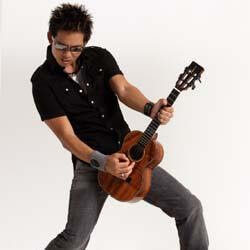 Since when could you imagine the ukulele taking center stage at a symphony hall? Enter Jake Shimabukuro: a young Hawaiian who has been recognized as one of the world's most exciting and innovative ukulele players and composers.
This guy emits positive energy even through his dozens of youtube videos, I can't wait to actually be in his presense. If his last album is any indication, Davies Hall is in for quite a ride Wednesday night where he will be playing as part of the SFJazz Festival's season. Jake's latest album release is entirely live. Every track reveals a different side of the ukulele: soft and sensitive at times, other times cheery and playful, occasionally dramatic, and, once in a while, hard and aggressive.
Jake writes his own material as well as innovative covers such as "While My Guitar Gently Weeps" (see the video below which has received over 3 million views on youtube),
"Thriller"
(which I bet will be played on Wednesday) and J.S. Bach's "Two-Part Invention No. 4 in D Minor."
Music education is very important to Jake.
READ MORE OF MY ARTICLE HERE