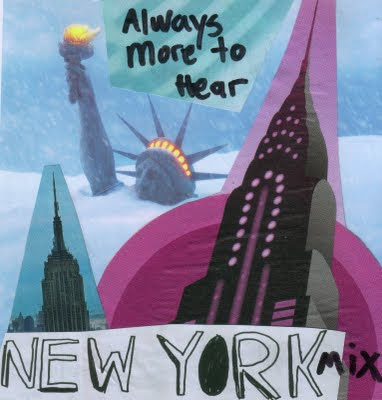 This is a second version of a mix I made over the summer when visiting friends in New York. This time I opened up the track list to songs about the city (while maybe not mentioning it in the title) and the individual burroughs. I have to say, I'm pretty happy with this one. I listen to it all the time!
I collaged the cover as well back in August. It's cute.
Note: I only bought two of these songs from itunes especially for this: the Sinatra and the Busta Rhymes. SO, if you have any complaints here, blame it on the mp3 collection.
1. "New York S**t" - Busta Rhymes & Swizz Beatz
2. "N.Y." - Doves
3. "Spanish Harlem" - Aretha Franklin
4. "The 59th Street Bridge Song (Feelin' Groovy)" - Simon & Garfunkel
5. "Manhattan" - Ella Fitzgerald
6. "New York City" - John Lennon & Yoko Ono
7. "Brooklyn" - Mos Def
8. "New York State of Mind Billy Joel" - Billy Joel
9. "Talkin' New York" - Bob Dylan
10. "Englishman In New York" - Sting
11. "There's a Boat Dat's Leavin' Soon for New York" - Louis Armstrong
12. "An Open Letter To NYC" - The Beastie Boys
13. "Autumn in New York" - Billie Holiday
14. "Angel of Harlem" - U2
15. "Manhattan"- Kings Of Leon
16. "Morning in Manhattan" - Raya Yarbrough
17. "Fairytale of New York "- The Pogues
18. "New York, New York" - Frank Sinatra
Almost made the list but cds aren't long enough:
- "What New York Couples Fight About" Feat. Kurt Wagner - Morcheeba
- "The Only Living Boy in New York" - Simon & Garfunkel
- "I Can't See New York" - Tori Amos
- "New York J-D Blues" - Pete Seeger
- "New York" - Sex Pistols
What would you put on your list? I know I asked this a couple months ago, but feel free to share again.