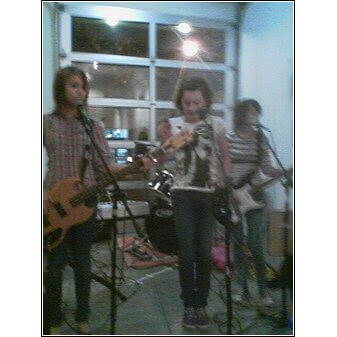 Poison Apple Pie: Emmalee, Torrey and Jasmine


Just wanted to report that the fundraiser was a success! I don't know how much money was raised, but there were over 65 pieces of art donated and most of them were bid on. Everything I donated was sold which is very excited for me! Thanks again Jen, Lauren, Jemal, Jessica, Diana and Erin .

Poison Apple Pie played a fabulous set including "Superman" by R.E.M., "21 Guns" by Green day, "Don't Stop Believin" by Journey (complete with the intro that Torrey and I worked on last week), and originals "I Need a Chainsaw," "Flying Swines of Doom" and my favorite, "I Don't Want to Hug You." The last one sounds like a 1960s garage band tune. They've just been getting better and better and better. I can't believe they are all only 12.

I sold two lessons, one to someone I know and one to someone I don't know. Should be interesting!

Anyway, everyone did a fabulous job and I am very happy to have been part of it.