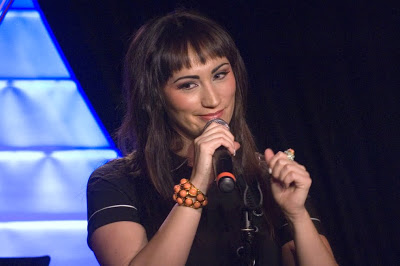 Eden Espinosa At the Rrazz Room - photos by Pat Johnson


If you are ever in the market for singers who can really sing, look to musical theater. I'm probably not telling you anything you don't know. If you are a fan of Glee or Adam Lambert, you probably know that all of these people have honed their skills and talents in the world of musical theater.

Luckily for San Francisco, we have the
Rrazz Room at Hotel Nikko
that showcases singers; REAL singers, not the type of cookie cutter vocalists that we have become accustomed to on
American Idol
. Last Monday, December 7th, the Rrazz Room was graced by the presence of California native, Eden Espinosa, who has set herself apart from the pack singing the roles of Maureen in
RENT
and Elphaba in
Wicked
on Broadway, Los Angeles and San Francisco. She also starred in the Broadway production of
BKLYN
(see this gorgeous performance of
"One Upon A Time"
).
On Tuesday Espinosa performed a set list inspired by friends and family, featuring everything from Garbage's sizzling "I Would Die for You" to Joni Mitchell's "Both Sides Now." Unfortunately there was no printed set list and Espinosa didn't identify many of the songs, so I can't tell you what else she sang other than a tune from the film
An American Tail
.
CLICK HERE TO READ MORE AND WATCH ESPINOSA SING "TAKE ME FOR WHAT I AM" FROM RENT