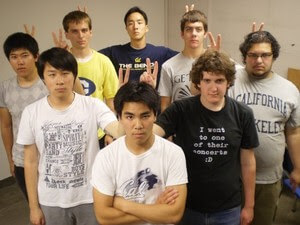 Noteworthy is: Clock-Wise from Top:
Spencer Yeh, Jeff Nathan, Raul Valle, Christoph Neyer
Marcus Wong, Brian Wang, Kevin Min, Joey Goodknight
Since we're all on this Glee/Lady Gaga/Sing Off kick, Bay Area folks will especially appreciate this video of the UC Berkeley men's a cappella group Noteworthy singing Lady Gaga's "Poker Face" with absolutely fabulous entertaining choreography. As of 11:50 PM on December 17, 2009 the video has received 1,072,697 views.
The song features Brian Wang sashaying and singing lead on the verses and Joey Goodknight singing the crap out of the chorus. The performance is from the 9th Annual West Coast A Cappella Showcase on November 13, 2009.
These men deserve some major kudos for dancing with such gusto and channeling their inner divas! GO FOR IT BOYS!