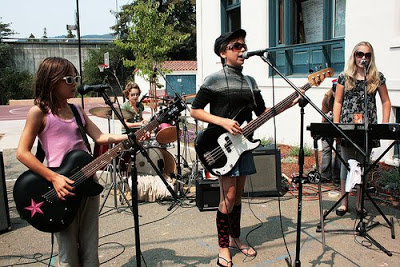 Splash! 
photo courtesy of bagrc on flickr
It's about time I blogged about one of my favorite things that I am proud to be part of in this lifetime:
Girls Rock Camp,
 the promotion of women in music and in the arts and entertainment industry in general.
Girls Rock Camp
started in Portland, Oregon in 2001 with the mission of building self-esteem of young women through music creation and performance. The concept has since exploded nationally and internationally with dozens of new camps popping up in new cities every summer (I believe there will be around 50 worldwide in the summer of 2009). As each camp develops, organizers and supporters get more ambitious; there are Lady Rock Camps (for us older girls), documentaries, after school programs, tours, showcases and even more exciting, bands that met through camp but gig on their own.
Just watch: music is going to be very different as these girls grow up. Has anyone else noticed how more and more women are popping up in indie bands? And not just as the singer or keyboardists!
Here's the trailer for the
Girls Rock!
documentary:
When I lived in Austin I helped out the Girls Rock Camp director in her endeavor in initiating the first camp in Austin. I helped the younger girls, all around 10 years old, write two songs: one about the ghost Bloody Mary, and another one about ice cream tummy aches. When I saw them perform, I bawled my eyes out in shear joy. I was so moved and inspired by them.
Now that I live in the Bay Area, I'm lucky to also be riding in the wave of the first-ever
Bay Area Girls Rock Camp
. This past summer, I volunteered as a band coach for the band Splash! I helped the three twelve-year-olds and one 8-year-old write a song about: what else, writing a song!
At camp we made fanzines (out of my old Spin Magazines, go recycling!), silk screened Splash!'s bands logo onto t-shirts, learned about self-defense and self-image and more. It was awesome. We had the end-of-camp showcase, where every band performed the song they wrote during camp, at the
Bottom of the Hill
in San Francisco.
I was so inspired by these girls and the community that rallied around them.
In the band Splash!, I met a 12 year old drummer named Torrey who also played guitar (and rather well I might add). She wanted to learn more. She's now my private student and she's awesome. Even though I'm certainly not the most accomplished musician (I'm going to be learning my guitar scales with her!) there's so much I can teach her. We've been singing, tuning guitars, replacing strings, learning more chords, fingerpicking patterns, music theory, some piano and yes, learning to read music.
Torrey had been wanting to learn "Blackbird" for a couple months and I kept telling her, "yeah, we'll do that, but you have to learn basic fingerpicking patterns first." I went away to Australia for two weeks and when I got back, whaddaya know, she's learned Blackbird! Just like that! Gawd it took me months to learn it! Amazing. This girl is a human sponge!
Anyway, Torrey and two of her friends (one of them also a former member of Splash!) are now in a group called
Poison Apple Pie
. So far, they've performed at a wedding and a Girls Rock Camp fundraiser.
Here's Poisen Apple Pie performing REM's "The One I Love" at
Art Murmur
on first Fridays in Downtown Oakland. Torrey is the drummer (you can't really see her, but you can definitely hear her). She's awesome, I'm so proud of her. It'll be a sad day when I have nothing left to teach her. But until then, we'll be playing.
If you would like to donate to Girls Rock Camp, click
here
to get to their website and navigate over to the "get involved" tab on the left. The rock stars of the future will appreciate it!
If you want to find out more about a Girls Rock Camp near you, go
here
.
And also, if you're interested in girl empowerment in general, check out
Saturday Night Live
Amy Poehler's new project
Smart Girls At the Party
: an online website celebrating girls who are changing the world by being themselves.
WHO ROCKS?
GIRLS ROCK!!