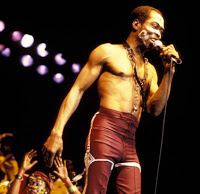 Some of the world's best music has been created out of great passion and great struggle.
I was listening to Forum on KQED/NPR this morning driving my cat home from the vet and heard about an exciting new show that will air next Monday night at 10pm called "Sound Tracks: Music Without Borders." I didn't get to hear the whole report (a cat in a carrier is not a happy cat), but I am very excited about this show.
Producer Marco Werman and international correspondents Alexis Bloom, Arun Rath and Mirissa Neff have created a show that will take viewers on journeys of discovery from the bayous of Louisiana to the backstreets of Havana, from the nightclubs of Paris to desert music festivals in Mali. They'll interview everyone from Rock 'n Roll Hall of Famers to Bollywood singers, violin virtuosos to bluegrass musicians. It's not just good music they are looking for, but good stories behind the music.
CLICK HERE TO READ THE REST OF MY ARTICLE ON EXAMINER.COM
Click here for the "Sound Tracks" official website