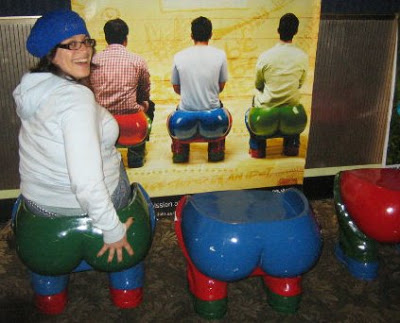 3 Idiots

ad in the lobby of the the Naz8 in Fremont, California

"Chase excellence and success will follow." That is the lesson of the new Indian film 3 idiots.
You know when Aamir Khan takes on a project, it's going to have some sort of social lesson. He has tackled British rule over Colonial India in the Oscar nominated Lagaan: Once upon a time in India and primary education of children with learning disabilities in Taare Zameen Par (Every Child Is Special) in which he starred and directed. Now Khan takes on higher education in India, a factory that churns out engineers, doctors and student suicide.
If you have never seen a Bollywood movie before, but enjoyed Slumdog Millionaire (which was largely a British film), this is an excellent first Indian film for viewers used to Hollywood's style. 3 idiots is huge already and I'm sure you're going to start hearing about it. It will be the first ever officially released film on youtube (12 weeks after opening, so around the middle of March) and it is Bollywood's biggest blockbuster with the biggest opening of all time
On the way home last night, my friend, who was born and educated in India expressed to me how much this movie hit home for him. To get ahead of the herd in India, students are pressured by their families to study to be engineers and doctors so that they can make a lot of money, marry and live in a big house. What if you aren't even good at engineering? What if you want to be a photographer?
Sound familiar? Yeah, I thought so. Americans can learn from this message as well.
READ MORE OF MY REVIEW HERE