So it's storming outside and I can't sleep. What am I doing? I'm googling myself. Well first I was googling this blog to see if it was mentioned anywhere that I didn't know of, and then I decided to search myself. And what did I find? Well other than this Jamie Freedman who's an M.D. I found that I'm on
allmusic.com
.
Yup.
Check it out
.
I know the first two entries are indeed me because I was an intern for
Smithsonian Folkways
the non-profit record label of the U.S. National Museum in Washington D.C. from 2003-2004 between undergrad and grad school. During that time I worked with the archivists of the label. It was pretty awesome. I got to hang with all these old LPs and cassettes. I worked on a couple of commercial archival releases including
Classic Folk Music
and
Classic Maritime Music
as a Production Assistant. The folk complication included tunes by Doc Watson, Peggy Seeger, Paul Robeson and even the song "Gallis Pole" by Fred Gerlach which Led Zeppelin later covered. The Maritime compilation has a pre-Beach Boys "Sloop John B" and "All for Me Grog," which was my favorite.
How could I ever forget "All for Me Grog"?
And it's all for me grog, me jolly, jolly grog
All for me beer and tobacco
Well I spent all me tin on the lassies drinking gin
Across the western ocean I must wander
And here are two versions of "Gallis Pole"/"Gallows Pole."
Performed by Led Belly:
Led Zeppelin:
My part in the production of these compilations was basically making a big mix tape, which in retrospect is, well, the most perfect job ever. The main archivist gave me a list of songs that he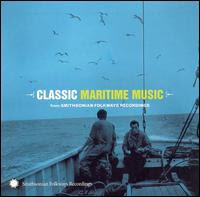 was considering putting on the CD, and I had to scour the archive for all of the different versions of that song that it had. So I pulled recordings off of CDs, LPs, cassettes and actual reel-to-reel. There was a big switchboard thing involved and I remember getting frustrated with all those chords.
Interning for the label was pretty fun even though the interns were sort of treated like nobodies. I had all sorts of random projects to do. One other intern was archiving all these Woody Guthrie lyric sheets and sketches. That's where Billy Bragg and Wilco got the lyrics for their album
Mermaid Avenue
. Did you know Guthrie sketched erotic images? Yeah, he did. I've seen 'em. He was kind of party animal.
Alright, that's it. I'm going back to bed. Don't be bashful, googling yourself can be fun, you'll never know what you'll find. Have you done it? What have you found?