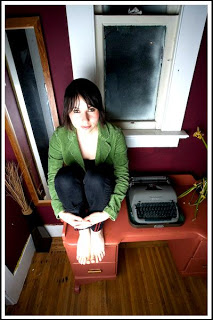 It's a brilliant concept: pay for Lia Rose's album now and get it hot off the press when it's done! That's the idea behind many of
Kickstarter.com
's projects. Many of us donate to non-profits, why not help unsigned musicians pay for a new project? The music industry is changing so rapidly, it's impossible to see where it's going. Record labels used to be the only way to make a record, but now you can do it from your bedroom. Unfortunately, it still takes money to make a record.
Fund the project here!
Lia Rose is the ethereal voice in front of the dream anthem pop band Built for the Sea. Their sound is big and warm. Rose's voice is sweet and hypnotic. I started listening to Built for the Sea recently and it was hard to take the CD out of my car stereo. Now Rose is hitting the studio on her own to create something all her own, perhaps something a little more delicate. It'll be exciting to see what comes out of this new project.
There are many different levels of funding, each with their own sized "reward" from a signed CD to a handmade art piece by Rose herself. As of Thursday afternoon, Rose is 78% of the way to her goal with 93 backers. She has 14 days to go. Can she raise the money to get cracking? Will you help?
Click here to hear a couple demo's off the upcoming album

Lia Rose on myspace