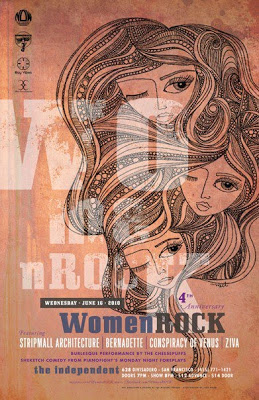 Just weeks before
Lilith Fair
hits the Bay Area on July 5th, WomenRock showcase some of the local female talent on the stage of the Independent. WomenRock is an all-female musician, artist, and activist collective and after four years the collective continues to grow and become more prominent. This will be the collective's first show at the Independent.
The evening will feature Stripmall Architecture, *bernadette*, Conspiracy of Venus and ZIVA with a burlesque performance by the Cheese Puffs, Spoken Word by Scorpio Blues, SHEketch comedy from PianoFight's Monday Night ForePlays & dance party with DJ Kipp Glass
"We are taking it upon ourselves to work together to create a new, enterprising model of visibility, access and self-enfranchisement. We are organizing ourselves to work together to showcase our creative endeavors, talents, intellect, business savvy and penchant for community-building and activism, whilst creating self-sustaining, quality, alternative lifestyles." says the celebration's organizer, musician, activist, and WomenROCK visionary, *bernadette*.
Click here to read Bird in the Tree's interview with several of Wednesday's performers.
For tickets