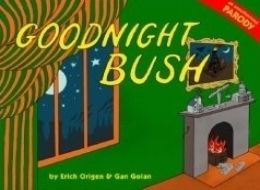 On January 20th, 2009 I sang with about 2 dozen other people to form the "Goodnight Bush" singers at our debut (as well as one and only) performance at 
Yoshi's San Francisco
 to celebrate the inauguration of Barack Obama.
We sang a four part arrangement by Daryl Henline (also conductor) of the children's parody book
Goodnight Bush
by Erick Origen and Gan Golan, in bathrobes.  We had one rehearsal the night before and did a warmup in the Yoshi's parking lot.
Someone edited together this awesome video of folks at the inauguration in D.C. reading the story while we sing over it.  It's terrific.  Look for me, I'm just to the right of the conductor. And I'm singing my socks off!