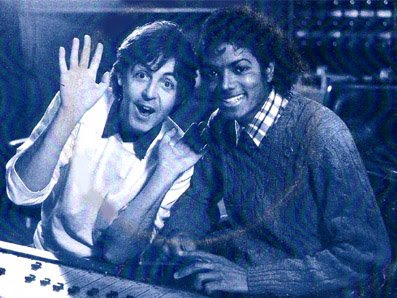 Frenimies: Paul McCartney and Michael Jackson
I've heard many fantastic opinions and facts commenting on whether Michael Jackson was more popular worldwide than The Beatles.  I guess Elvis and, as one smart lady suggested, Frank Sinatra are out of the running.  Really, this is a ridiculous comparison since you can't compare the world music industry of the 80s to that of the 60s. The world is a different place, record distribution and radio/television is different and music is itself, of course, totally different.
Read my original post "Was Michael Jackson more popular worldwide than The Bealtes or Elvis?" here.
Read the counter rebuttal "No, Michael Jackson was not more popular than The Beatles" from The Beatles Examiner here.
My response to Beatles Examiner Steve Marinucci is this: you, and many others, have spent a lot of time quoting record sales and musical influence; unfortunately record sales equals popularity in this world of music we live in. I personally don't own any Michael Jackson records (I'm a much bigger Beatles fan by the way) and I know all of his hits. All of them, word by word.
Read more of my Examiner.com article and some of the fantastic comments that readers have left arguing one side or the other.
I'm pretty proud of the debate I started...  : )