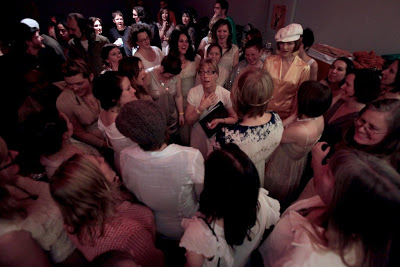 Bevy of beauties:
Conspiracy of Venus prepares for their performance of "Monkey Gone to Heaven"
(all photos by Peter Varshavsky)
Last week UnderCover Presents: the Pixies'
Doolittle
at SF Public Works. The project is an insane logistical balance of getting one band to record and perform one track each of a classic album. This time,
Doolittle
got the royal treatment.
Read my review of the show and studio album here.
I noticed that the tracks I love the most were sung by women. Surprise surprise. These ladies include, Dina Maccabee, Blue Rabbit (who I'm going to see live tomorrow night at
the Hemlock
) and Lily Tayor. Of course I also love Conspiracy of Venus (a choir I have rejoined, I couldn't stay away any longer).