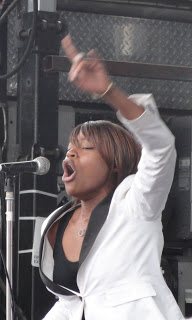 Fitz! Fitz! Fitz!
Finally I got to see Fitz & the Tantrums live! I'm also happy to say that I also converted two of my friends over as well who had not heard of them. I, myself, was converted after
Amber Gregory
's excitement of their Bay Area shows last year. So after finding rockstar parking, we slid over to the Waterloo Records parking lot (they no longer have SXSW shows in the store, which is good news for everyone) and were treated to the funky sounds of Los Angeles based
Fitz & the Tantrums
.
We found front duo Michael Fitzpatrick and Noelle Scaggs outside Amy's
Ice Cream around the corner and had a quick chat, they were as nice as can be. The fangirl in me waited in line to get them to sign my newly purchased copy of their first album
Pickin' Up the Pieces
.
The music is a sort of reinvention of soul music. It's modern, yet very much firmly based in Motown and STAX. Fitz has no guitar (score!) and instead has a baritone saxophone (double score!) played by Jamie King. The music is fun, but definitely has a certain edge to it, and a good amount of passion and anger. And that's what I think drives it. The performance is super tight and groove-worthy. The vocal combination of
Fitzpatrick and Scaggs is perfect. And although Fitzpatrick has a great voice that suits the music wonderfully, I wish Scaggs would get to sing more lead. But, really, that's my only complaint.
I don't know the history of each of these musicians, but these guys are seasoned professionals that know their stuff. Bassist Ethan Phillips and drummer John Wicks lay down tight, funky grooves and keyboardist Jeremy Ruzumna has chosen the perfect keyboard tones for each song that gives each song a specific personality of sorts.
The song "Dear Mr. President" pleads with (I assume) Mr. Obama, "Hey put your foot down, and take a look 'round, if you don't like what you see." Say it. Hallelujah. And songs like the fabulously catchy "Money Grabber" (see the video below) and "Rich Girls" suggest that Fitzpatrick might have had some specific troubles mixing money and women. I'm really enjoying the dark "News 4 U" with a chorus of call and response between Fitzpatrick and Scaggs that gets in your head.
I took video (including a cool cover of Sade's "Sweet Dreams"), but the amplification was too much for the little flipcam, so I give you their performance on Conan, the late night talk show host with the best taste in music.