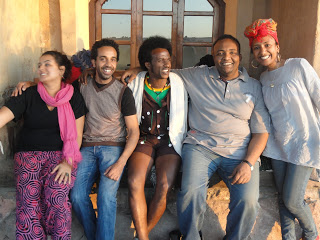 Dina (Egypt), Ahmed-Omar (Egypt), Mekuanent (Ethiopia), Adel (Egypt-Nubia) and Alsarah (Sudan)
After sending an email to my Mom yesterday, I realized I never explained what The Nile Project is working toward. So here you go:
January 27th there will be a free all ages concert in Aswan.
January 31st there will be a free all ages concert in Cairo. I will go with them.
I also believe there will be a Private concert at the Swedish Embassy in Cairo since one of the financial backers is a Swedish Department.
In the more distant future there is talk of an album and tours down the Nile, in Europe and the United States.
There is also plans of educational camps for kids all along the Nile Basin.
Much much to plan and more complicated logistics for the staff. woohoo!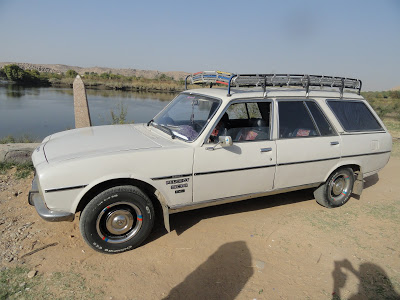 The taxis are so cool
Some thoughts:
I'm enjoying the combinations of Arabic and Ethiopian scales, Ugandan rhythms and Sudanese melodies.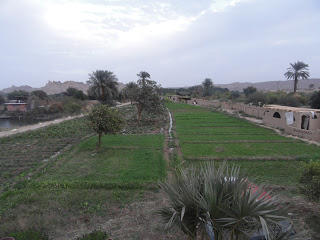 The Fekra Cultural Center farm
Watching master musicians learn something new from scratch, like learning a rhythm or scale from another culture, is like watching little kids in a music class. It's putting them outside of their comfort zone, but they are all learning.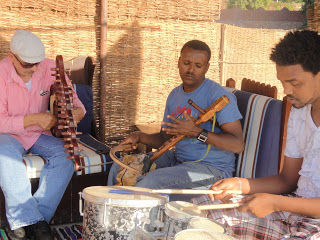 Moshen (Egypt), Ahmed-Said (Sudan) and Asrat (Ethiopia)
I sat in on a session the other night where the tune was very rock and roll. I explained the meaning of the phrase "kicking ass" and "shredding" to Hazem the Oud player, trying to compare him to the likes of Eddie Van Halen. He laughed.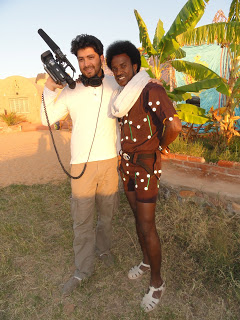 Camera man Maruf (Tajikistan via Berkeley) and Mekuanent (Ethiopia)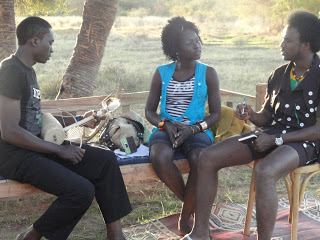 Lawrence (Uganda), Nyaruach (South Sudan), and Makuanet (Ethiopia) -

This session was especially interesting because none of these folks speak a common language.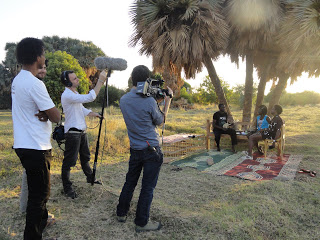 Film Crew
I exchanged mp3s with one of the staff members here at Fekra Center. I'm super excited about these tracks, mostly Egyptian and Nubian pop. He wanted some reggae, so I gave him some Bob Marley, Toots and the Maytals and figured I'd also throw in some Meters, Amadou & Mariam, Souad Massi and Howlin' Wolf.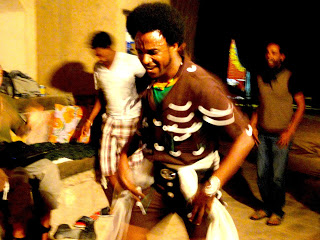 Mekuanent dances at an after party - this guy is all entertainer. A total doll.
The Fekra Cultural Center is located between the Aswan Dam and the High Dam. The water has been getting lower and lower since I've gotten here. I heard that over New Year, the levels got so high that folks were worried it would flood. And, literally in the last two hours, the levels are right back up to normal. It's bizarre.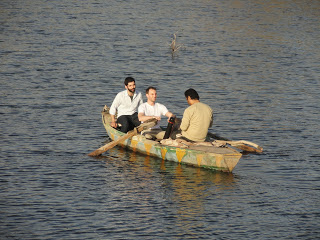 The film crew takes Mohammed out for a special shot. The shoot was difficult, but the results were quite beautiful. The water levels were so low, the sound guy (from the UK) had to get out of the boat and push.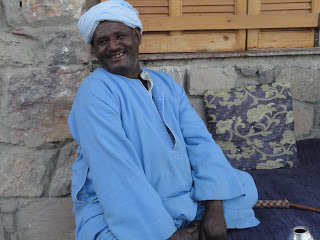 The fisherman whose boat the film crew used for the shoot, patiently waiting for his boat back.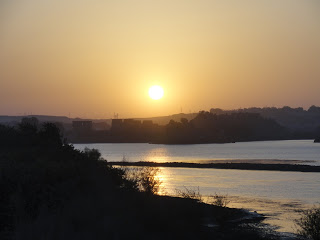 The sunsets are crazy here
Between the musicians, staff (of the Nile Project and the Fekra Center), volunteers and journalists, film crew and sound crew there are around 40 people here, maybe more (not everyone is sleeping at Fekra). The energy can be intense, and there have been some difficult moments for me. But we're getting through it and these folks are very very sweet. I've also got
Downton Abbey
to distract me and some trips into town from time to time :)