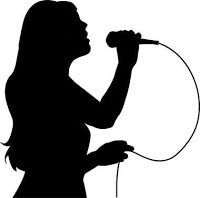 Had a fun conversation last night about favorite karaoke songs. Andy, if you check this I'm expecting you to respond! I like the soulful lady songs. My recent favorites to sing are:
- "Midnight train to Georgia" - Gladys Knight and the Pips. When I can I get some Pips on stage with me, make the song way more fun
- "Livin on a Prayer" - Bon Jovi. I can hit those high notes and people are impressed! And everyone knows this song, so they sing along, dependiny mostly on how late in the evening it is and how much people have been drinking.
- "Piece of My Heart" - Janis Joplin. I like Erma Franklin's (Aretha's sister) version of this song, she did it first. And some of her phrasings are fun. But I still like trying to howl like Janis, although I certainly don't do it as well.
- "Son of a Preacher Man" by Dusty Springfield. Again, people know this one, so folks sing along.
What are you favorite songs to sing at Karaoke?