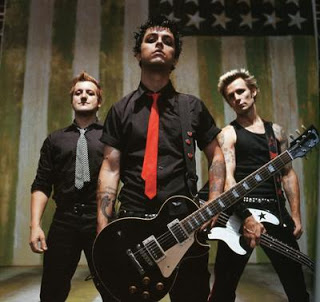 This is only the beginning of the staged production of American Idiot's rise in popularity.
According to cast member and star
John Gallager, Jr's twitter
the cast of American Idiot at the Berkeley Rep went into the studio yesterday to record "21 Guns" with Green Day. It is rumored that the production will spread onto Broadway and the big screen.
Personally I'm looking forward to the cast recording of American Idiot. The arrangements are spectacular. I saw the show opening night just over two months ago.
READ MY REVIEW HERE
and can't quite remember who sings "21 Guns" (it might have been one of the female characters), but the cast was terrific and it's bound to be good.
Green Day's singer and guitarist Billie Joe Armstrong is producing the track, which will hit the radio at the end of November and be made available for purchase through all digital retailers. With bassist Mike Dirnt and drummer Tre Cool the band will also shoot a video for "21 Guns" with the American Idiot cast. The digital version of the "21 Guns" has gone platinum, selling more than one million downloads, while the video won three 2009 MTV Video Music Awards in September, including "Best Rock Video."