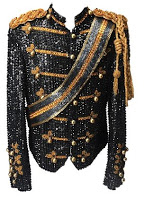 "Imitation is the sincerest form of flattery" so goes the saying.
Cover songs are the best way to pay tribute to excellent musicians and songs. Some straight up copy the tune, some take it and tweak it to make it fresh and new.
Since MJ's untimely death, I've noticed folks posting Michael Jackson covers in every style from Mariachi to ballad-esque. Here are some of the most interesting covers I've seen.
Disclaimer: Just because you put on the sequined jacket, it doesn't mean your version of an MJ song is going to be good. Put on the jacket and make it your own. Make it interesting.
Sorry, Fall Out Boy and Alien Ant Farm will not be on this list. This is of course my own personal preference, but I don't find these covers very interesting. This is my criteria for these six:
- Does the artist make the song their own?
- Does the artist keep the integrity of the MJ original?
- Last but not least, is the cover fun to listen to?
Read more of my Examiner.com article here