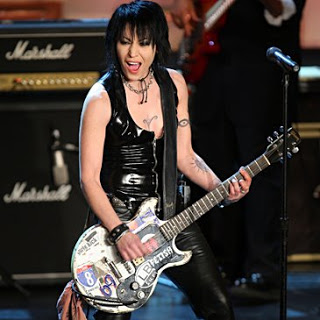 Why girls? Why a Girls Rock Camp?
Someone has actually asked me that.
Really?
Have you ever watched Mtv? (Especially now that it only schedules reality television.) Have you seen the dozens of
blatant sexualized covers of RollingStone Magazine?
Why are there so many more men in popular music than women? And why are most of the women in popular music singers? Where are all the female instrumentalists?
Do you want to see more women on TV being real women rather than over sexed school girls?
Aretha Franklin, Wanda Jackson, Joan Jett, Sleater Kinney, Queen Latifah, and Bjork: these are someof the famous woman that Girls Rock Camp (GRC) uses as role models. But GRC also seeks to shine the light on every day role models: our cool sisters, the girl next door and the band that plays in that small club on Fridays.
This Saturday, July 11 at 2pm at the
Metro Oakland Opera House
you will be able to see the 70 or so girls perform their original songs that they will write with their bands this week. Whether or not they ever pick up these instruments again, GRC hopes to inspire each and every one of them to be powerful and true to themselves. I highly recommend that you pencil this show into your weekend. You will not regret it. I usually spend the whole two hours smiling with tears in my eyes. It's amazing what these kids can do in a week.
Read more of my Examiner.com Article here