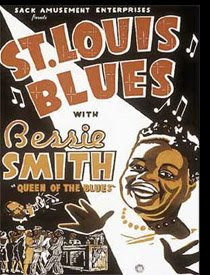 In honor of Girls Rock Camp this week occurring in Oakland this week, I am celebrating women in music, past, present and future.

Today I want to celebrate Bessie Smith, definitely one of the greatest influences on women (and men!) in music today, and possibly the first music video star as well.


But first, let me tell you what's happening at the second day of Girls Rock Camp: the 70 campers or so will learn more of the basics of their chosen instruments, whether it be the bass, turntables, drums, guitar, keys or vocals. The girls will also continue to pick band names and write a song that they will perform for a live audience this Saturday at 2pm at the Oakland Metro Opera House.


After lunch they will learn how to make a zine and participate in a history of women in rock workshop, taught by yours truly. Bessie Smith is the first woman we will talk about and the video we're going to show the campers is part two of St. Louis Blues made in 1929. We want to showcase her powerful voice.


It got me thinking about what this video actually is. I have this way of using youtube just for the audio, but the sometimes the video is just as interesting (or bizarre or hysterical) as the audio itself.
Part I
Part 2