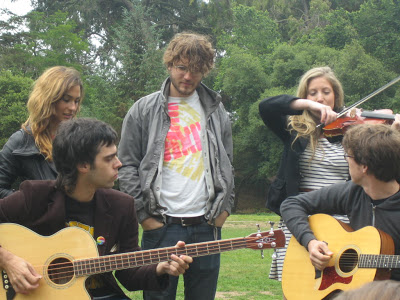 I take sleeping in on weekends very seriously. But sometimes it's worth getting up at 8:30 AM on a Sunday morning, especially if you know that you're going to witness an intimate performance of a popular band in a park!  Take yesterday: I got up and headed over to San Francisco to see the band Ra Ra Riot perform a live set in Golden Gate Park. 

The event was part of a "Live and Local" series thrown by SPIN earth tv "A voluminous new music site with correspondents from 6 continents who are producing videos, articles and photos about their music scenes." I just heard about this site and am now following them on twitter. 
After wandering around the Conservatory of Flowers in Golden Gate Park for a couple minutes wondering where the crowd was and wondering if it was all a cruel joke (and seeing some other folks doing the same) I found the crowd in a meadow to the east through the trees. Ra Ra Riot and Spin earth tv had brought along free bagels, donuts, fruit and coffee.
I'd say there were about 50 people there. Everyone looked half awake (I'm sure some of them were at the Greek Theater the night before to see Ra Ra Riot and Andrew Bird open for Death Cab for Cutie).   I'm not too familiar with Ra Ra Riot, but since I like free stuff and I like the park, I thought this would be worth my time.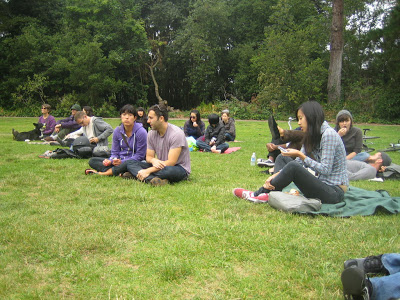 It turns out that the cello was broken, so the band could only perform two songs.  It was sad, but it was nice to hear some music that early in the morning, especially from a band of their stature.
I'm still wondering if only those two songs were playable without the cello, but like I said, I don't know their music that well, so maybe. But it was still worth getting up.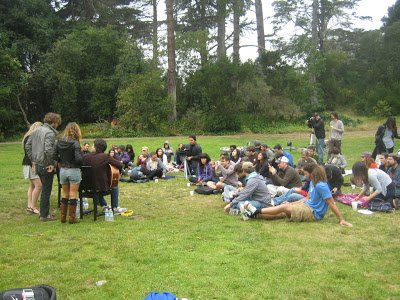 These are two short video clips I took of "Each Year" - sans cello. If you want to see the full performances, I've reposted this on
examiner.com
with someone else's footage.