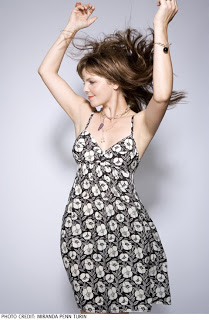 I had no idea what I was getting myself into when I first saw Theresa Andersson and her one woman band in Austin last March at the South by Southwest Festival in Austin, Texas.  But as soon as she started I was a fan. This tiny woman has pipes, she's got creativity and she's got spirit. And I'm excited to again see the Swede now calling New Orleans home this Thursday, May 14th at the Swedish American Hall in San Francisco.
Many artists use audio looping to take their show on the road: it's cheaper than taking along band. I've seen KT Tunstall, Imogen Heap, Yoav and Magnet do it (click on the links and watch them do it!).  It's always interesting and each artist uses the technology in a different creative way. Some people layer one instrument over and over again like Tunstall, Magnet and Yoav and some, like Andersson are multi-instrumental. You're not watching a regular performance where one note can be played wrong and in a split second it's gone, each musical moment depends on the one before it. It's more of an intricate dance between person and machine.
Continue Reading my article at Examiner.com...