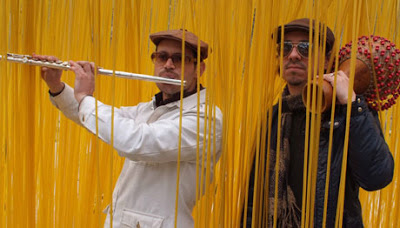 Martín Perna and Adrian Quesada of Ocote Soul Sounds play in giant straws
I was just updating the show calender down there on the right and I realized that starting tomorrow night, I have a show every day through the weekend and into next week. So I figured I would share these exciting shows with all of you. I will hopefully be at all of them, but we'll see how ye old feet (and eardrums) do.
Wednesday, May 13 Stevie Wonder- James Brown Birthday with Realistic Orchestra. Funky Funky Fun. What else can I say? Bring your dancing shoes. The Independent $15
Thursday, May 14 Theresa Andersson - Singer-songwriter from New Orleans. Performing at the Swedish American Hall, $14 Read my recent story about Andersson and her amazing one woman show here.
Friday, May 15 "Showboat in Concert" The Oakland East Bay Symphony and the Oakland Symphony Chorus. Season Finale Concert! $25-$70 The Paramount Theater.
Saturday, May 16 Mutaytor Burning Man regular circus troupe from Los Angeles brings a multi-media experience blending high energy music with amazing performance art. $20 Mezzanine.
Sunday, May 17 Ocote Soul Sounds, Afro-Latin electronic funky dance music from Austin, Texas. Basically, the afrobeat giant Antibalas and Latin dance band Grupo Fantasma had a funky baby. Again, bring dancing shoes. $8-$10 La Peña Cultural Center
Monday May 18 Doves - dense, brooding gorgeousness from Manchester. Read my review of their last album Kingdom of Rust here. $27.50 the Fillmore