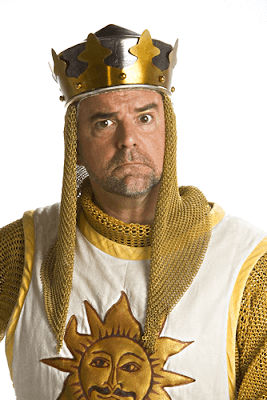 John O'Hurley wants you to eat your Spam
Your mother was a hamster and your father smelled of elderberries!
There is nothing not silly about Spamalot. It is absolute, hokey fun. Die hard Monty Python fans love it because Python-isms are scattered all over the stage and newbies will love it because Python-ism never get old. If you blink you might miss one. They come at you so fast you're bound to miss one. I missed several, but I was also sitting way up on the side of the second balcony.
Playing King Arthur, John O'Hurley is San Francisco's special Spamalot celebrity. He is best known for his portrayal of Elaine's boss, J. Peterman, on Seinfeld and was also a contestant on Dancing with the Stars. O'Hurley performed in the Las Vegas run of Spamalot for two years but is clearly still enjoying himself.


"It's the one promise that I make in entertainment right now," O'Hurley said in an interview with The SF Examiner. "You will laugh from the moment you sit down until the moment we do our curtain calls. I regard silliness as the highest form of comedy, and this is silly at the highest level."

This video doesn't really have anything to do with the musical directly, but it's silly. So bring it on...