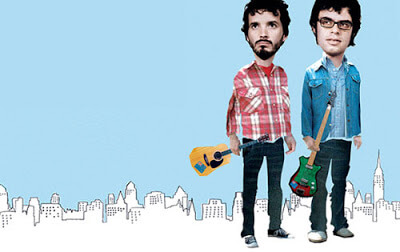 Despite faulty fire alarms, bad mics and clogged toilets,
Flight of the Conchords
' Bret McKenzie and Jemaine Clement left Berkeley in stitches last night.
The Community Berkeley Theater was a bizarre choice for a show like this, considering the duo sold out Davies Hall last year and seemed a tad ill-equipped to handle so many people twice in one night. I wonder how the Berkeley High kids deal. In a voiceover starting the show, Jemaine informed the audience that we were not there for a school assembly, just in case anyone was wondering.
Due to a malfunctioning auditorium fire alarm, the 6pm crowd was still wrapped around the building at 6pm. Warm up act and Bay Area local Arj Barker, who plays Dave on the HBO series, had some quality moments in his act. One punchline was definitely ruined by a shotty mic. Maybe we were spared a rotten joke... we might never find out.
Read More of my examiner.com review and watch videos...
And by the way, that was my friend
Lauren
's camera that Jemaine stuffed in his pants at the 9pm show.