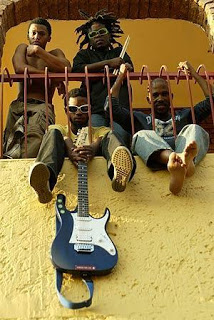 If you're in the market for some African grooves tonight, check out BLK JKS from South Africa at the Independent or NOMO from Ann Arbor, Michigan at Bottom of the Hill.
Returning to the United States after a short tour earlier this year BLK JKS (Black Jacks, for those of you, like me, who might be a little slow) has been called the "African TV on the Radio," (who is coincidently playing at the Fox tonight). Judging only from their single "Lakeside" (video below) that's what I thought too. But after seeing them live at the Rickshaw Stop in March, they are way more than that. Add a little prog rock and a jam band vibe and maybe call it: "afro-avant-noise-rock."
NPR has said that their single "Lakeside" "has a drumbeat even Radiohead would be jealous of." I think this might be the way that African music is going, and it's exciting.
Read More at Examiner and to watch videos...