Day 1: Intros, band formation, instrument instruction, songwriting workshop, practice, practice, practice, and play rock band!
So far I am loving this.
I was a little worried going into this about several things: what would the other campers be like? Would I be able to sing? Would my band suck? How terrible would I be at playing the bass? Would my musical background be an advantage or a disadvantage?
Everyone has been so great. I love my band. We have two guitarists and TWO bass players. And you know what? it's perfect.  I can sing and play guitar just fine, but sing and play bass at the same time? I think so! 
Our song is great (it's a little AC/DC-esque) and our band name is going to be nerdy and awesome (let me just say that a certain social networking site is going to get a shout out).  It's so interesting how I can't write a song by myself to save my life, but as soon as I have other people's ideas around me, it becomes so easy.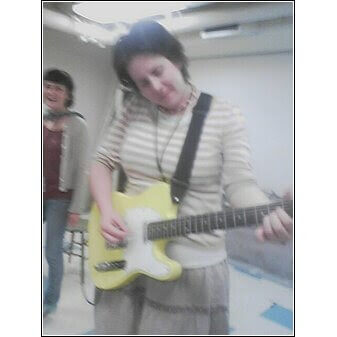 There are 24 women of all ages signed up: moms, aunts, and girls right out of college.  There are a couple women in from Southern California and even from the East Coast. Everyone is so excited to be there and we are all having a ball. Tomorrow is going to be tiring, but I'm super excited about it. 
I'm very inspired by these women to keep it up after this weekend and maybe try getting a band together. 
Maybe I'll even learn another key.
Our showcase is this Sunday May 3 at the Starry Plough in Berkeley at 3pm. 3101 Shattuck Ave Berkeley, CA 94705