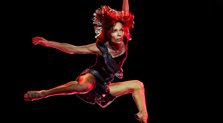 Earlier this week Stanford Lively Arts announced the full details of its 2009-10 performing arts series, running October 10th through May 5th at Stanford University. Lively Arts' 40th season is inspired throughout by "Art + Invention," an over-arching theme anchored by a yearlong campus project involving the jazz trumpeter/composer Dave Douglas and the innovative filmmaker Bill Morrison.
Other highlights include new works from Laurie Anderson (in a co-commission with Cal Performances), Steve Reich (performed by So Percussion), the Kronos Quartet, and L.A. Theatre Works; a multiday tribute to the composer Sergei Prokofiev; the Bay Area debut of Christopher Wheeldon's Morphoses dance company (in a co-presentation with San Francisco Performances and UC Davis's Mondavi Center); and a collaboration between the trumpeter Terence Blanchard and the Stanford Symphony Orchestra.
Read more of my Examiner posting here...