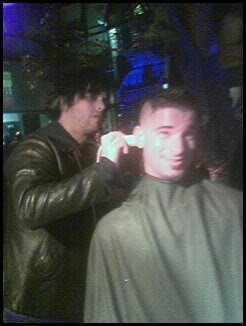 "It's like watching someone else making out with your girlfriend" said Green Day drummer Tré Cool to the women in front of us at the bar, with his trademark bleached blonde hair spiked up about three inches. They had asked about what it was like to watch someone else play his music in the new Berkeley Rep's production of American Idiot.
The after party of the Berkeley Repertory Theater's 2009-2010 season was the night for punk hairdos of all types. Along with food and drinks, the Levi sponsored event included a photo station with costumes and a hair salon. Guitarist/vocalist
Billie Joe Armstrong even shaved one guy's hair to a fine looking mohawk
(
See photo and slideshow
).
For a few minutes I was tempted to track Armstrong down and ask him to shave my head, that's how inspired I was by this production of American Idiot, and I've never had punk tendencies. I'm more of a hippie if you must know. After recently seeing the Tony nominated Rock of Ages and Tony winning production of Hair (and thoroughly enjoyed both),
read that article here
I am convinced that American Idiot will easily slide onto Broadway and do very well there. This is not the last you'll be hearing about this show.
READ THE REST OF THE ARTICLE HERE