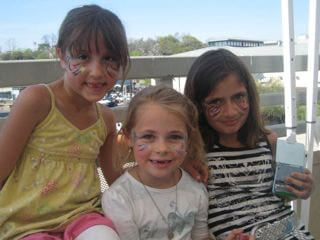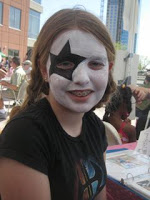 I started my day with something called "The Trailer Park" from  
Torchy's Tacos
 in South Austin that included fried chicken. I also had a Mexcian Coke (all sugar, no corn syrup), perfect! 
Then I headed up to on the roof of the
Whole Foods Headquarters
for the
Girls Rock Camp Day Party
with a
Daisy Rock Guitar
raffle, face painting (check out the
KISS makeup
) and of course, girls who rock. England's
Peggy Sue
greeted me with their gorgeous yet forceful vocal blend. They remind me a little of
First Aid Kit
 but with a little more sass.  
Then I strolled further into downtown and came across
Steve Taylor
, an Oakland musician who had decided to
busk
on Sixth street instead of playing proper staged venues.  He drove his portable piano all the way from California to Texas to play on the street. From the little that I saw, I'm willing to guess that he sold a pile of CDs that way. People loved him. His style reminds me a little of Paul McCartney or
Jamie Lidell
.
This is a video that I took of Steve while a hula-hooper provided visual entertainment. Ah, such is South by Southwest... actually, this is pretty normal for Austin year round...
This is a quick video I took of 6th Street, the main strip for South by. You can hear the cacophony streaming out of the clubs, even in the daylight. Image what it sounds like in the evening.
Another band I found wandering the streets of Austin is the 
Environmental Encroachment Marching Band
from Chicago.  I think this video speaks for itself (sorry it's so short and blurry).
Later that night I ended up at
Antone's
, a special place for me (I was
Clifford Antone
's teaching assistant while he was working for the University a year or so before he died) and got to see
Theresa Andersson
, a Swedish ex-pat living in New Orleans. She's got quite a voice on her and with the help of looping, she's a one-woman band. Check her out with her apartment setup (I like this video because you can see all her pedals).
I came home to the Bay Area earlier today and am ready for another (but not quite as intense) week of music!  This time with the Jewish Music Festival.  Honestly, I'm a little sick of guitars at this point...