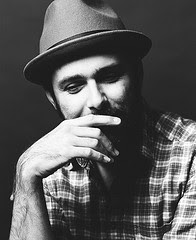 Greg Laswell holds a special place in my musical being. He was the
first post
on this blog.
It was a lonely September evening when I went to see Greg Laswell by myself at Cafe du Nord in 2008. But it was there that I decided to go home and actually start writing. I had been thinking about it for awhile, but there was something about discovering this musician and seeing him play live that actually convinced me to do it.
So thanks, Greg.
I'm super excited to see him play with a 5-piece band on a bigger stage. The energy of his music calls for more sound, and somehow the two and three piece groups I've seen him with always left me a tad disappointed.
READ THE PREVIEW OF THE THIS SHOW at the Independent next Wednesday HERE
Please click through, even if you don't read it,

I get a penny every time you go to my Examiner articles

! MAKE ME RICH!! lol. I don't have a day job anymore!!
And for those of you not in the Bay Area check out his
tour dates
here, he'll be heading through the Midwest, East Coast and Canada in the next month or so.
And stay tuned for photos and review from a fellow Examiner
Amber Gregory
.
Watch Greg try to sing backwards (to make it look like he's singing forwards) while people destroy the set in the background.
Greg Laswell Featuring Ingrid Michaelson "Take Everything" HD from OTTO ARSENAULT on Vimeo.