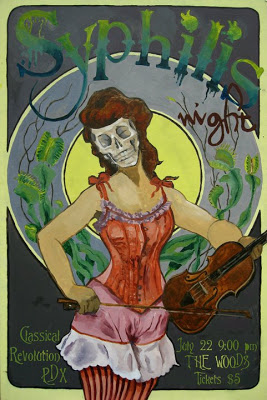 This poster is so super awesome, I've printed it out and posted it at my desk with the idea that it'll make me laugh every time I look at it.
There has been
much discussion
on how to keep classical music alive in the 21st century. Opera companies and symphonies are doing all they can to make performances more affordable and appealing to younger people. The movement has been called "
Alt Classical
."
There are many ways to keep the music alive; and I think humor, awesome dark humor is one of the ways. What about a show poking fun at death and a horrible sexually transmitted diseases like syphilis that took the lives of so many great composers?
Classical Revolution
is a national organization that's been popping up all over the country bringing live performance out of the symphony hall and into non-traditional spaces like clubs and restaurants. I
wrote about
one of these events in San Francisco last December.
This is the manifesto of Classical Revolution PDX:
We love classical music.

We love playing classical music.

We love listening to classical music.

We are tired of the elitist and inaccessible nature of the classical world.

We believe that there are many that would enjoy classical music if they could access it in a setting that is comfortable for them.

We believe classical musicians should be allowed to perform in a setting that is more casual - where the audience is allowed to have a drink, eat a scone, laugh a little, and clap a lot.

We believe everyone can enjoy the music that we love.
A co-worker of mine who lives in Portland is playing "Syphilis Night" tonight with
Classical Revolution
. It will showcase the music of composers who died of syphilis (including Schubert, Beethoven, Schumann, Wolf, Paganini and Joplin) and will be held at
The Woods
, a night club/bar that used to be a funeral parlor.
Volunteers will be handing out condoms, and in an email from organizer Mattie Kaiser announced that folks get "extra brownie points for dressing up like a sailor or a prostitute."
I'm sorry, but if this is not the coolest, most awesomely hysterical things you've ever heard, I don't know what is! Mozart would definitely approve. I wish I could get up to Portland for this.