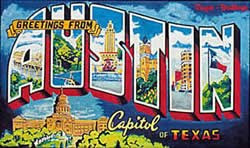 This weekend I'm off to one of the best cities in the country: Austin, Texas. For two days and three nights I'm going to visit my favorite haunts from grad school and eat lots of breakfast tacos. When I lived I immersed myself in the healthy, historical and revved up music scene. I discovered two fabulous bands that the rest of the world should know about:
Maneja Beto
and the
Asylum Street Spankers
.
Maneja Beto, self described as "indie in Español," is the brain child of Anthropologist Alex Chavez. I met him in one of my seminars and his band quickly became one of the most unique and fun bands I've ever come across: think Joy Division and Elbow sung in Spanish with latin rhythms. Alex studies Mexican folk music and culture and is also in several other bands in Austin. Percussionist Bobby Garza is equally impressive on vocals and percussion. This is a super fun band to dance live as well.
The Asylum Street Spankers I met during my master's report research into Gospel Bunch in Austin. The research it self is a long story, but it turns out this irreverent, silly band who sings about beer and superheros, is also well versed in gospel favorites. They used to play the Gospel Brunch at La Zona Rosa in the 90s when they first got together. I interviewed Christina Marrs (WOW what a voice!) and percussionist/vocalist Wammo for my research and was lucky enough to catch them while they were doing a whole series of gospel shows at the Saxon Pub.
The musical vibe is traditional vaudeville from the early part of the 20th century with Betty Boop vocals (sometimes) banjos, mandolins and washboard percussion. But the lyrical themes of the tunes poke fun (
SUV drivers in support of troops in the Middle East
) at life both modern and past and just having a grand old sarcastic fun time. You will laugh your ass off: promise. They tour regularly, so check out their
touring schedule
.
Note: this band is not for the faint of heart. Language! language! language! (I just discovered a song called "
Scrotum
".)
Here's a gospel tune...
And a good old favorite...
Anyway, I'm off to eat breakfast tacos, sit in a river with a toob and a six-pack, hang at Barton Springs and sweat my butt off.