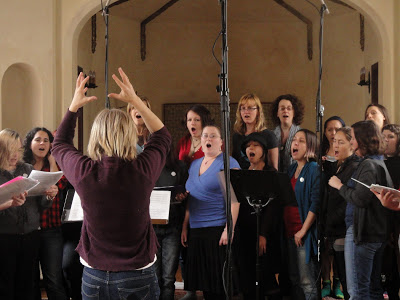 Joyce McBride leads the women of Conspiracy of Venus as they record "Monkey Gone to Heaven" for UnderCover's Doolittle Project at the Convent Collective
I love a good cover song. So I love projects like this. In Austin, Strings Attached does entire shows of albums (

Sgt. Peppers, The White Album

)
or artists (Led Zeppelin, Joni Mitchell) with a full band and string arrangements. Each song featured a different local musician. It is a celebration of a well-love artist/album and a celebration of the local music community.
UnderCover
in the Bay Area is about to have its second show, celebrating the Pixies'
Doolittle
. Each track will be performed by a different band. Two weekends ago I had the opportunity of going to hang with my girls of the women's chorus
Conspiracy of Venus
as they recorded the track "Monkey Gone to Heaven" for the studio UnderCover Doolittle album, which will before sale at the show at
Public Works SF
on February 22.
CLICK HERE TO READ MY ARTICLE
Also, Examiner.com has a new feature for discussions. So
CLICK HERE
to weigh in on what album you would like UnderCover to celebrate in the years to come!